MEET THE
MAKERS...
Meet the makers, the creators and the funders behind the stories of change project.
LK. ESSENTIALLY ECO
THE MAKER/CREATOR.
Stories of Change was a bit of a happy accident. It started back in 2015 when I took six students away to experience COP21 in Paris. I met so many interesting characters that I felt drawn to document who they were, what they were doing, and what their hopes and fears were for the future. These stories still remain on my laptop, along with many other Stories of Change that I've gathered over the last seven years.
These stories and solutions have been at the forefront of my workshops and climate literacy programs. These narratives have proved to be far more powerful than instilling fear and guilting people into taking action. These stories enable people to experience the world around them, and are a powerful vehicle to empower taking climate action.
READ MORE
WILLIAM. WILDSTRANDS
THE SEAWEED MAN/CHEF
William was brought up in Inishowen where his bedroom view of the sea inspired his journey into the world of seaweed. He learned about seaweed harvesting -under his late father-in-law, a fourth generation seaweed harvester. William loves the tradition of utilising sustainable local wild food, and still enjoys learning the names, the cures and the folklore attributed to seaweed.
William has brought contacts, creation and confidence to the project, and soon he'll bring his culinary genius to the table for the exhibition and celebrations.
JACQUI
THE ARTISTS / PHOTOGRAPHER / FILMMAKER
Jacqui is a photographer and filmmaker based in Donegal. Her role in Stories of Change is to tell the stories of Ireland's Changemakers through film and photography.
"What excites me about being part of Stories of Change is to be able to meet and tell the stories of the people around Ireland who are doing positive things for climate action, who have changed the narrative and are working on climate change solutions.
Being part of the Stories for Change, I want to bring the best out of every story told, creating a visual montage of what it is to be human, working and striving to take care of our environment in a positive way."
DELIVERY PARTNERS
REBECCA AND MARTHA - ARTLINK. DONEGAL
Artlink is an artist-led organisation that cultivates creativity through workshops, events, exhibitions and outreach programs for its community. Artlink welcomes local and visiting artists to create a diverse and dynamic environment that invites imagination, exploration and open-mindedness.
Martha and Rebecca dream of an Ireland that will have a vibrant sustainable art community that supports the local economy and ecology of the north west of Ireland, and they're making pretty good tracks to getting there through their work at Artlink in the stunning Fort Dunree in Buncrana. Don't miss their community gardens if you're in the area.
PRANJALI
BURRENBEO,CLARE
Burrenbeo was founded in 2001 by Ann and Brendan who set up a website to inform people about the role of the local community in the Burren's conservation and preservation. Burrenbeo is now a thriving organisation that runs 26 educational programs to connect people to place and planet.
They host walks, events, festivals and spearhead biodiversity projects in the area. Pranjali says, "Burrenbeo is an open, welcoming and constantly evolving organisation. I love that both learning new ideas and sharing lessons learned is actively encouraged here. In fact, it's not only encouraged but it's actively celebrated."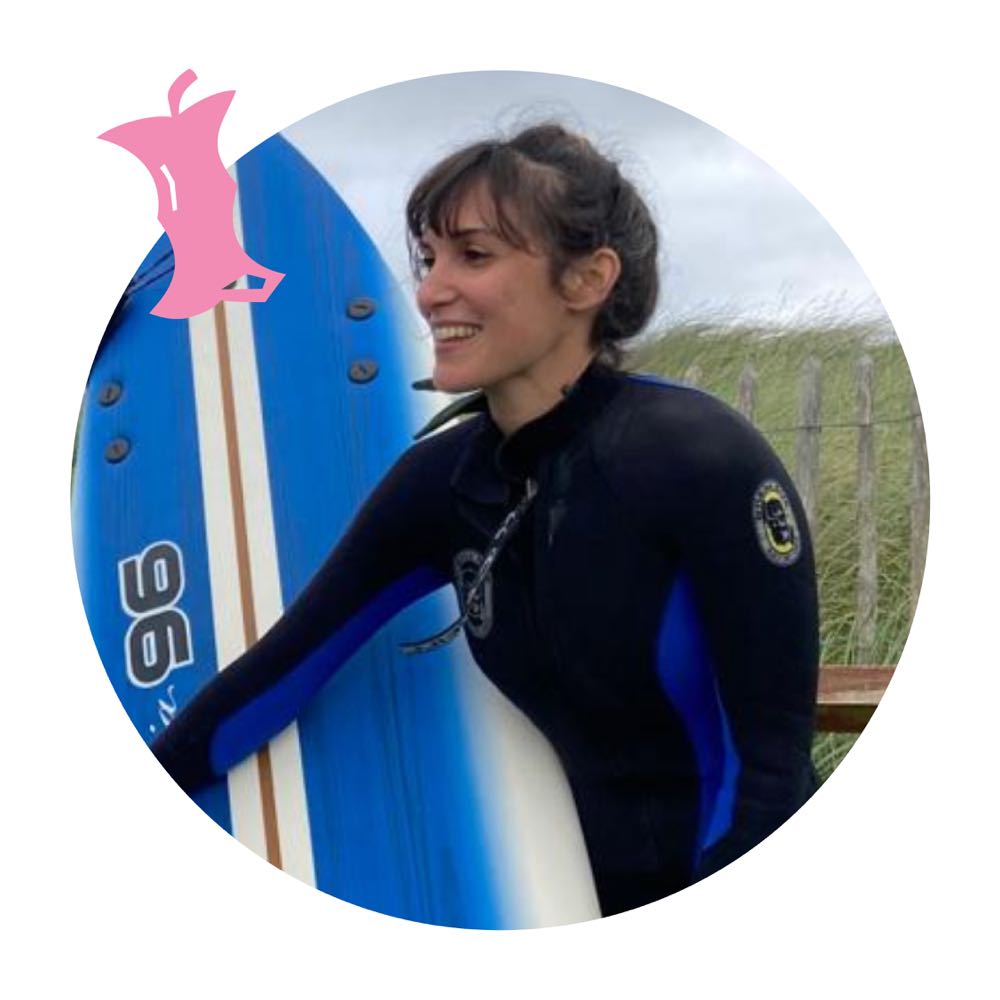 ATAYLA
LEAVE NO TRACE, GALWAY
Atayla is our wonderful Stories of Change Galway coordinator. She grew up in Fort Lauderdale, a beach town in Florida. She was always connected to the sea, and had a healthy obsession with wanting to protect the planet. When questioned on how to do this, she decided the best option was to be a scientist with an emphasis on marine biology.
She spent some time travelling around exploring sea turtles, mangroves, permaculture, yoga, history and did a bit more studying before pursuing a masters in Coastal Marine Science at NUI Galway. She is now a full-time mum to one, and continues to save the planet with her work with Leave No Trace and The Oceans Explorers program, and teaches therapeutic trauma sensitive yoga in hospital.
LUCY
SEA SYNERGY, KERRY
Lucy Hunt: ocean advocate, marine biologist, consultant for international marine education and ocean literacy programs, nominee of Kerry business of the year, avid scuba diver, and founder of Sea Synergy. Sea Synergy was inspired by Lucy's love for the ocean, and her passion for wanting to protect it.
Sea Synergy is a marine awareness, research and activity centre with a mission to create meaningful experiences that enable people to discover the rich diversity of Ireland. They offer education workshops to connect people of all ages with the sea through ocean activities such as SUP, kayaking, snorkelling and swimming, and other experiences that enable synergy for people to connect and conserve.
SUPPORT PARTNERS
GRAINNE, CLIMATE AMBASSADORS, Dublin. Climate Action Officer, An Taisce
The Climate Ambassador program is Ireland's first ever initiative to train up and support individuals to take action for the climate. Grainne works as a climate action officer with her colleague, Gary Tyrrell, on the development and delivery of the program. The program has reached 35 million people, with 731 climate actions, and 193 ambassadors trained.
Grainne doesn't just teach about plastic pollution, energy poverty, soil degradation, climate literacy and climate migration because it's part of her job. She does it because she believes the behaviours, the people and the campaigns she endorses are a blueprint to a kinder future - one that she knows is achievable, and one worth investing in.
"Never doubt that a small group of thoughtful, committed citizens can change the world; indeed, it's the only thing that ever has." Margaret Mead
Our Partners:
WATCH THIS SPACE FOR OUR SUMMER PROGRAM OF EVENTS COMING TO A COUNTY NEAR YOU.
IF YOU HAVEN'T ALREADY, SIGN UP TO OUR MAILING LIST TO BE THE FIRST TO KNOW.
Our Founders: